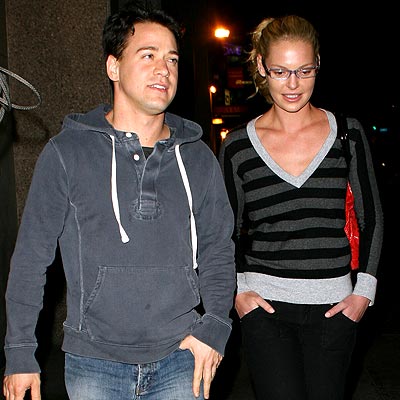 It sounds a little hard to believe, but
Us Weekly
is reporting that both
Katherine Heigl
and
T.R. Knight
will be leaving the
Grey's Anatomy
this season. Both actors have been vocal about their wish to move on to other things (has Knight actually done anything else since
Grey's
has been on??)
The magazine's source is none other than the actor's co-star on the on show.
James Pickens Jr.
told the magazine that the real life friends will be leaving.
When asked whether the actress was leaving his response was, "Yes, she is. Wherever Katherine goes, I wish her nothing but the best."
The actor was then asked about Knight, to which he said, "He's going too. He just wanted to pursue other career paths."
Now I don't want to call b.s., but to let both of them go at one time seems a bit strange (unless contracts expire at the end of the season). Also if it is true and Pickens went and blabbed, he'll surely be the next to go as Mamma
Shonda Rimes
hates letting things out before she is good and ready.
So take this one with a grain of salt until confirmation is given. However, E!'s
Kristin Dos Santos
is reporting that it is likely, but nothing has been officially decided and the network has yet to sign off on their leaving.